Pultronics offers a complete line of microelectronic design services, including research-intensive solutions and hardware-software system development. We provide a one-stop turn-key solutions, from a product idea to production. Our expertise covers:
ASIC and IP design, with the core expertise in:

low power, low voltage design
analog design
RF design
mixed signal design
high frequency design
ASIC design supported by in house software, when necessary

complete solution from design concept to silicon proven prototype, through concept analysis, process selection, performance analysis and optimisation, and design-for-test implementation

migration to ASIC technology

FPGA based design:
from concept and specifications to tested prototype
VHDL/Verilog, Pearl and C level behavioral modeling support

supported FPGA vendors: Altera (Stratix), Xilinx (Virtex, Spartan), other

digital signal processing (DSP) algorithms
high-bandwidth, real-time signal processing
fast prototyping and proof of concept for ASICs

Micro-Processors based desig
Arm9, Arm7, RISC support
wireless communication systems
sensor networks
portable systems
digital signal processing (DSP) algorithms

System level design
Board level support: schematic, PCB layout, and fast turn arround prototyping
High performance applications:
Aditional requirements:
System level hardware-software co-development
Test procedure development
High-performance packaging solutions
Characterization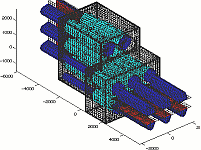 System Integration
Pultronics' designs are approached from a system-level perspective. For example, a high-performance 64x64 hybrid circuit in a 3D configuration has been developed to extend the number of ports and maximize the bandwidth of an analog switching system. Special software tools have been created to analyze, simulate and test these types of systems. Bidirectionnal amplifiers have also been developed for transparent multi-protocol systems.
A wide range of services is offered at system level, from technology choice to hardware/software co- design. Pultronics' solutions provide optimal performance by taking advantage of large-scale integration and by tailoring circuits to customer's needs.
Telecommunications
Analog bidirectional switch matrices
RF transceivers
Ultra low power RF transmitters
RF tagging devices
Remote sensors and remote data collection
Web appliances
Automotive Engineering
Signal conditioning circuits for sensors
Low Power Design
RF telemetry devices
Remote sensors
RF tagging devices
Standard logic cells (GaAs and CMOS)
Thermal analysis of integrated circuits